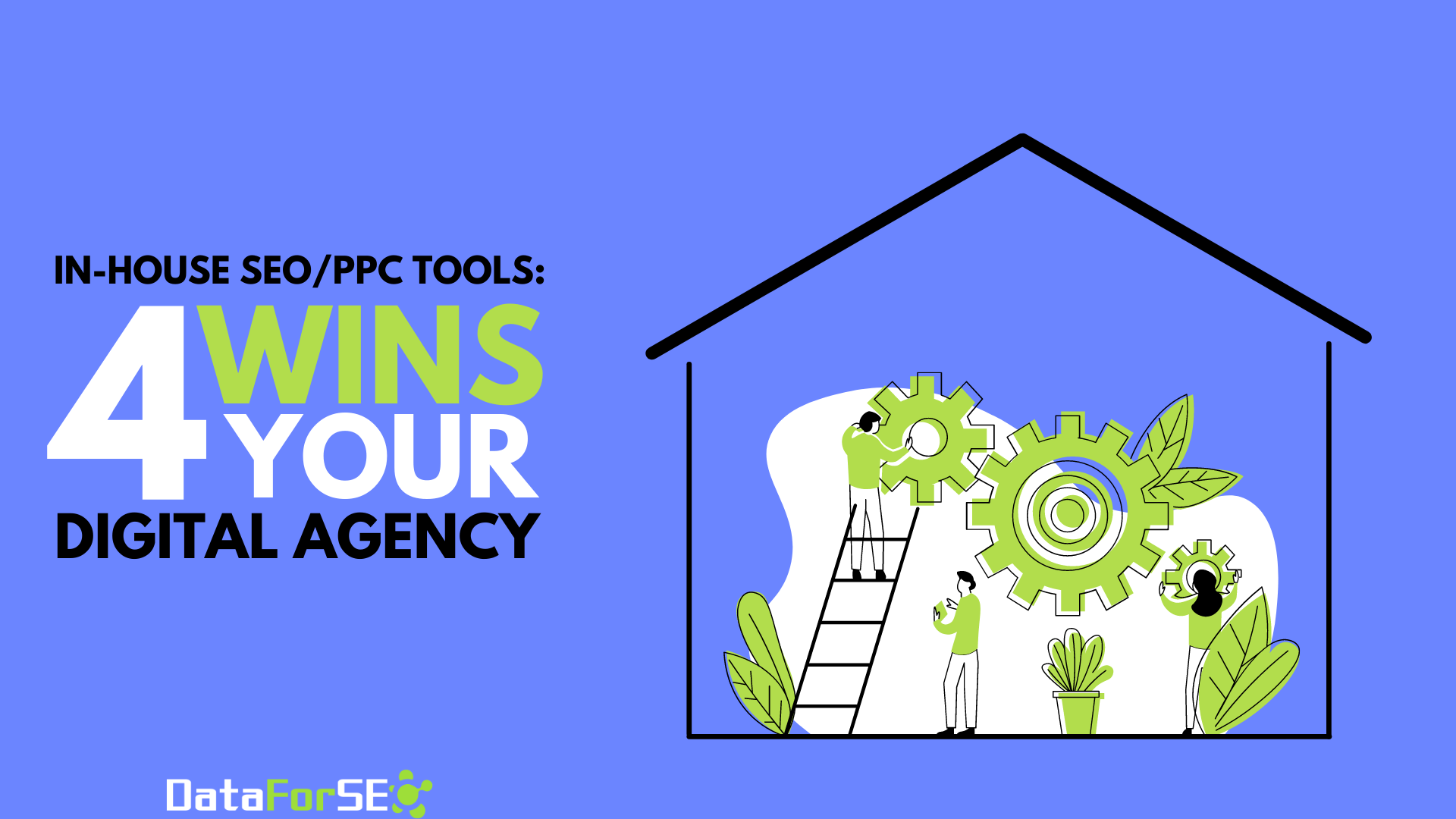 4 Wins In-House SEO/PPC Analytics Tool Will Bring Your Digital Agency
For five years, we've been working with numerous digital agencies that turned away from off-the-shelf tools to build custom software in-house. Throughout this time, we've always wondered what backed their decisions and what fruit in-house tools bear for them.
When we pose these questions to our customers, they repeatedly bring up four major points:
Today we're inviting you to explore the insights shared by our customers. We'll dive deeper into the toughest challenges digital agencies overcome with custom software and the biggest wins it helps to gain.
Win 1: Land more prospects with outstanding market research
By and large, successfully landing a prospect hinges upon the initial pitch. Point is, if you step into your prospect's shoes, you'll see all the agencies alike. All of them use the same or similar tools, and all promise the same results – more traffic and sales.
If you don't want your agency to look like every other kid on the block, you should differentiate, not jostle. In other words, before going into a pitch, you need to do an in-depth preliminary SEO analysis and thorough market research to impress a client with a highly personalized approach and a unique strategy offer.
But here's a thing. At this point, you don't have access to any client's accounts yet. On top of that, the majority of paid tools leave numerous blind spots in a brand's keyword coverage.
Pascal Moyon, who works as an independent consultant and is one of our customers, explains that "all the tools in the market are designed to answer very specific questions, generally the volume of one particular keyword, or the ranking for a given company. They are therefore used very tactically in the search team (SEO and paid-search) to optimise a fraction of the addressable traffic."
Pascal has built his own tool aiming to "save a lot of time, efforts and money in pitches for new clients, or in business reviews." It's running on DataForSEO Labs Ranked Keywords API.
The consultant managed to not only land more customers using his custom market research tool, but also to bring the tool forward to the market to earn on its subscriptions.
Below you can see the visual representation of the Opticians market in the UK that Pascal created with the help of the extracted datasets:
Domain's ranked keywords
Keyword search volume
The website's ranked URLs

.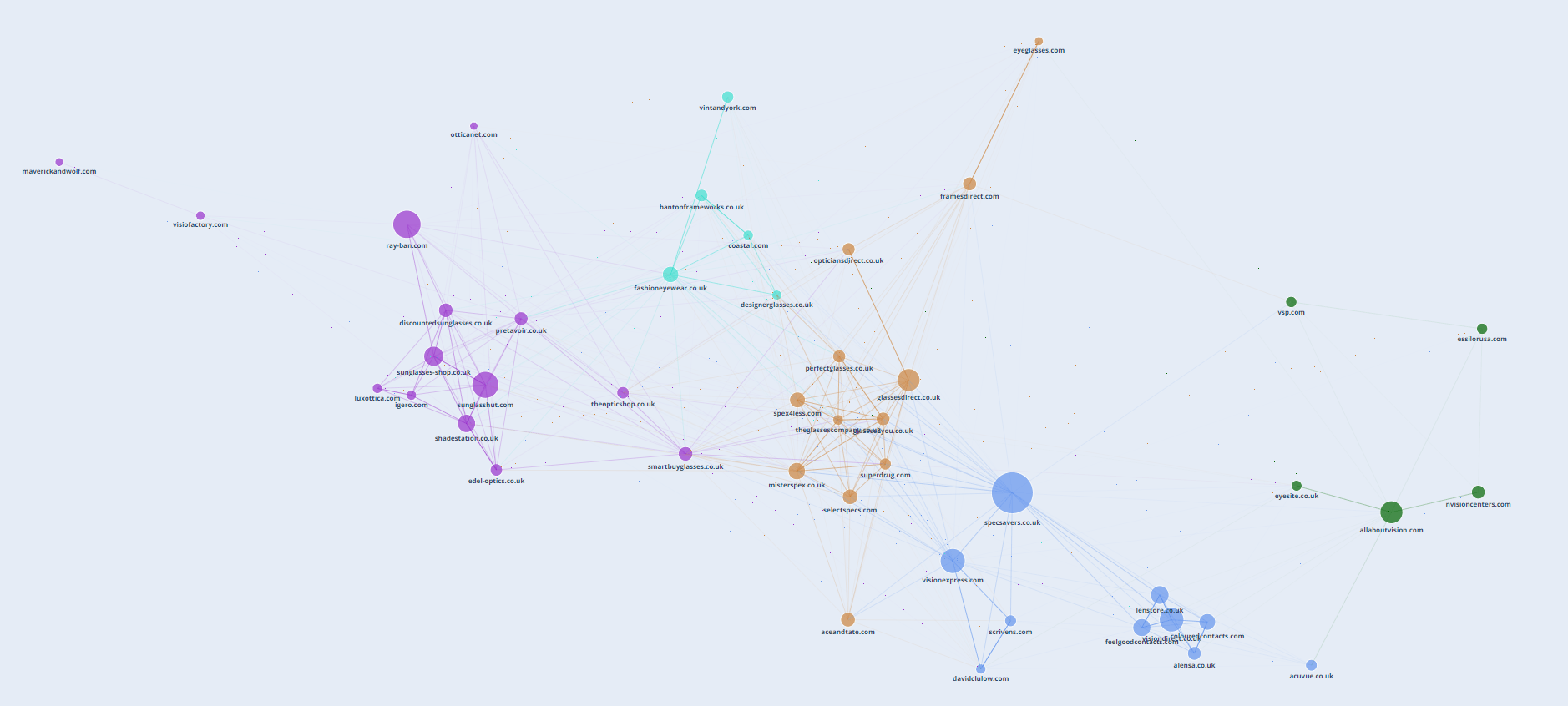 Pascal also illustrates a possible way to map competitor's shares of different search terms or topics with a graph.
You can create a tool with a similar core mission in mind and empower your team with advanced market research capabilities that will mesmerize your prospects. Importantly, if you simply integrate the necessary data into your tool with APIs, you will save on the development time, as well as minimize development and recurring expenses.
For example, DataForSEO Labs API can supply you with keyword intersections for any domain or page including search volume, competition, cost-per-click, impressions data, and more on each intersecting keyword. Retrieving 100,000 keywords will cost $11.
Win 2: Erase rank tracking limits and deliver top-notch reports
You must know from your own experience that simply delivering on the client's expectations is not enough, the results of your work should exceed them. For the most part, you need to convince clients they aren't wasting their marketing dollars. Here's where your monthly reports play a major role.
Sometimes, with a paid tool, you end up sending customers non-essential data simply because you have no opportunity to select specific data slices that should appear in the progress statement. Not to mention that the data quality always remains questionable, as you're not familiar with the trustworthiness of the original data sources.
In contrast, using a proprietary reporting tool, you can choose what and how to present. More importantly, you know where the data comes from first-hand, so you can judge its accuracy.
For example, many agencies create tailor-made reporting systems to increase brand authority, as well as customer satisfaction and retention rates. Here's a case in point.
On the Map Marketing, a digital marketing agency based in Florida. Rated #2497 in the "2019 Inc. 5000: The Most Successful Companies in America"
The company is using a custom-built reporting system, designed with cost-efficiency at heart as well as required customization level and full control over data atop.
As Kaspars Milbergs, CTO at On the Map Inc., explains:
"We have more than 300 active clients and each one gets a monthly report. We have our own client dashboard where we manage all the client info, keywords, traffic sources, etc. to generate reports. For each client, we have around 500 keywords on average. SERP data we get from DataForSEO definitely improved our client satisfaction since we have more accurate rankings."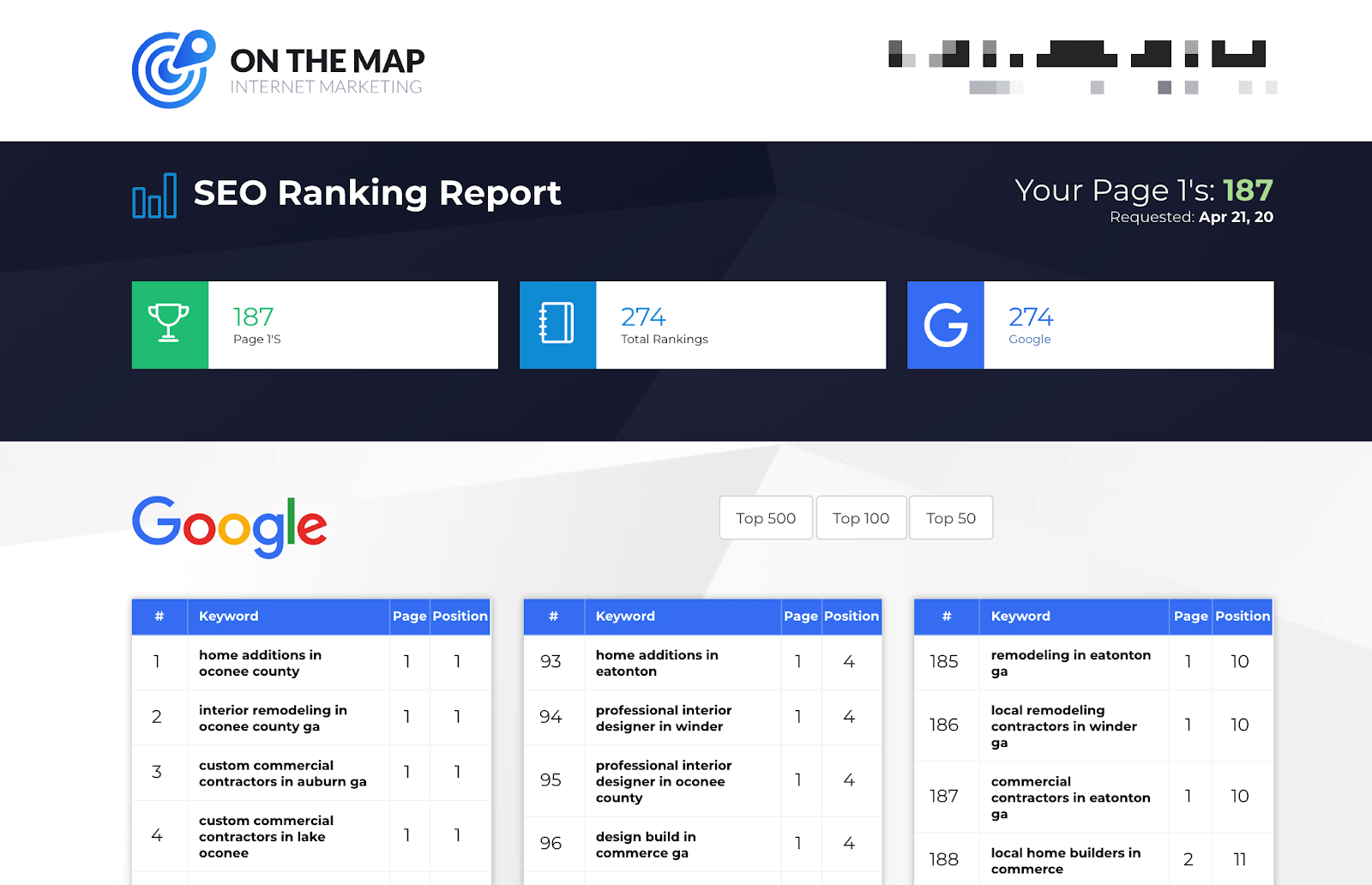 Besides improving customer experience, tracking rankings in an internal system will usually increase your employee experience and productivity with better process automation. A custom tool allows you to cut on clutter and get only the features you need, such as what types of results are essential to track, what search engines, and refinement rules you need. At the same time, custom software always leaves you room to incorporate more advanced capabilities whenever your needs grow.
On the Map is already working on a new version of their client dashboard that "will have more advanced SERP ranking analytics". "We are super excited to use DataForSEO for that project. This will improve reporting for clients by 300%", says Kaspars Milbergs.
With an in-house reporting tool and DataForSEO, you can run a ranking report for 10,000 keywords paying only $6 for SERP data. Additionally, you can enrich the report with search volume, CPC, and other keyword metrics for $0,75.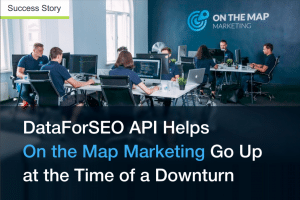 Click to read a full success story with On the Map Inc. and find out how the team reached its objectives and what results it achieved with DataForSEO APIs.
 
View full success story
Win 3: Run SEO and PPC keyword analytics hands-off
Business is a bumpy ride, and you often need to maneuver. In particular, when you're a digital agency, you may have large incoming projects that require exceptional capabilities way exceeding what the majority of ready-made tools can offer.
Imagine a project that requires running an analysis of 1 million keywords to balance out SEO and PPC strategies. Waiting for Google Ads API to supply you with this amount of data will take ages. Besides that, you need search results data to line up paid gains and organic wins for the same keyword and estimate how much traffic a client's site will lose if you stop running ads for that keyword.
The case described above is a true-to-life story shared by our NDA customer. Their agency desperately needed to take the project as it was the biggest client they've won. However, the lack of instruments with a fitting capacity for such large-scale tasks was a major problem. As time waits for no one and neither do the customers, the team quickly decided to bring the whole process in-house.
Fortunately, they already had an in-house system for big-volume historical data research and keyword trend analysis. The agency was using our data via API for that part of the tool's functionality, but now they needed to quickly integrate a new datasource into the system. Amplifying the tool's capabilities with another endpoint took them under a day and in the end, they managed to keep the client.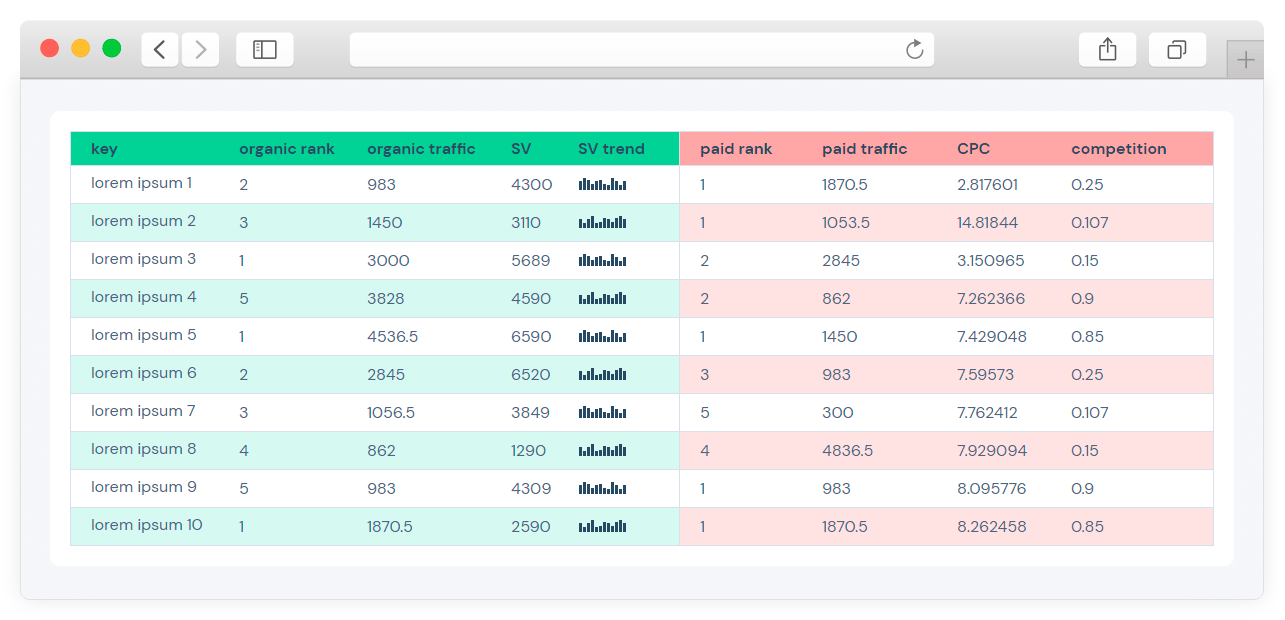 The agency leveraged SERP API to obtain organic and paid rankings, and DataForSEO Google Ads API to enrich the dataset with search volume, CPC, and competition metrics for all of the impressive 1 million keywords. The whole volume of SERPs data costs them $600 and keyword data makes for $71.
We helped over 750 companies reshape data-driven issues into profit-bringing solutions. Feel free to drop us a line if you'd like to discuss your case.Contact us
Win 4: Put e-commerce projects on autopilot
The e-commerce market continues to grow, and it becomes critical to leverage tools that enable merchants to reach customers with the right message at the right time and through the right channel. While the increasing number of touchpoints is a good thing in itself, it certainly complicates things when it comes to optimizing merchant's campaigns and creating a unique strategy for each channel.
Sure enough, Google remains one of the main channels and its Shopping platform can't be left out. However, working on Shopping campaigns alone for big brands and their versatile product offering is a laborious process. For one thing, many restrictions prevent you from getting quality data.
Google shut down access to its Search API for Shopping back in 2013 and provided no substitute to the date. Sure enough, checking Google Shopping results manually for some ten thousand keywords seems like a nightmare.
We've once received a new feature request from a client who asked that we add a new API for retrieving complete results from Google Shopping. The client is a CEO of a growing South European agency, and he explained the feature was vital for increasing the efficiency of the team's work for several large projects.
In particular, they were looking to automate pretty basic processes and make them a one:
Identifying poorly-performing product ads based on clicks and conversions;
Monitoring competitor prices to make sure there's no big gap that leads to poor ad performance;
Receiving alerts to bridge the pricing gap or adjust the bids quickly;
Getting similar keyword suggestions to find new advertising opportunities faster.

From a technical standpoint, achieving the goal was not too complicated. The agency needed a simple dashboard, client's account data, data from Google Shopping results, and an alerting system.

Within a week, we provided the customer with Google Shopping results data through a ready-for-integration API that allowed monitoring competitor prices for over 50,000 keywords. In addition to that, the agency integrated our Google Ads API to receive keyword suggestions with categories, competition, CPC, and search volume.

Overall, they managed to create a custom mission-tailored tool in a few weeks and speed up their workflow on seven big projects.

Their recurring costs for Google Shopping SERPs amount to $50 for a one-time check of 50,000 keywords. As for keyword data, the team is checking new opportunities on a need basis only, so the costs remain under $0,75 for 10,000 keywords.

Quick recap

Our long-term partnerships with numerous digital agencies gave us a straight-out vision of the pivotal role custom software plays in their business processes. Through the stories of our customers, we've guided you across four major accomplishments that digital agencies and consultants secured by bringing vital tools in-house.

1. First off, when you're a digital agency, marketing your own services is often tough given the crowded market. Off-the-shelf tools only make it more difficult to demonstrate your points of difference, providing a mediocre and insufficient search market perception. To eliminate this issue from your business reality, you can create a custom reliable, and powerful tool for market research and land more prospects with outstanding pitches.

2. Going further, many agencies face difficulties when trying to communicate the value of their services to clients, through monthly reporting in particular. While the reporting functionality of paid tools offers incomplete flexibility and scarce control over data, you can eliminate the problem with an in-house reporting system. Just like On the Map Marketing, you can design a cost-efficient tool that will help you to deliver top-notch reports and increase customer satisfaction and retention rates.

3. Another challenge is usually associated with the business growth stage. Having an expanding company and increasing per-project volumes, it becomes impossible to solve the clients' problems when your opportunities are boxed into ready-made tools. To vanquish some gazillion keywords, you can craft an in-house analytics tool and scale its capabilities whenever needed.

4. Many a time, agencies find themselves in a similar situation where several large projects require a separate process-oriented tool. When tools offered in the market are incompatible with your team's operations, going for the development of a custom solution remains the only option. In this case, a mission-tailored tool will help you to reduce the working time these projects required and enable your team to devote more attention to other clients.

We helped over 750 companies reshape data-driven issues into profit-bringing solutions. Your agency can be the next one. Feel free to drop us a line if you'd like to discuss our relationship your case.

If you're ready to get serious, tap to try the freedom of boundless SEO and PPC data.