How Not To Get Tricked And See Google Search Volume In Keyword Planner
We all remember how Google suppressed the data for companies with low Adwords budgets, leaving a number of businesses with very approximate data on searches. We would have thought it couldn't get any worse.
Nevertheless, the recent update to Google Keyword Planner proves that we've been going about this all wrong.
These latest changes touched the Google Search Volume, a key web metric that every business relies on when building a list of targeted keywords. Until recently, you could see Google search volume data for certain keywords by entering them into the search box at Keyword Planner. However, it doesn't work this way now.
Let's say you'd like to predict the number of monthly searches for the keyword "rent a car uk."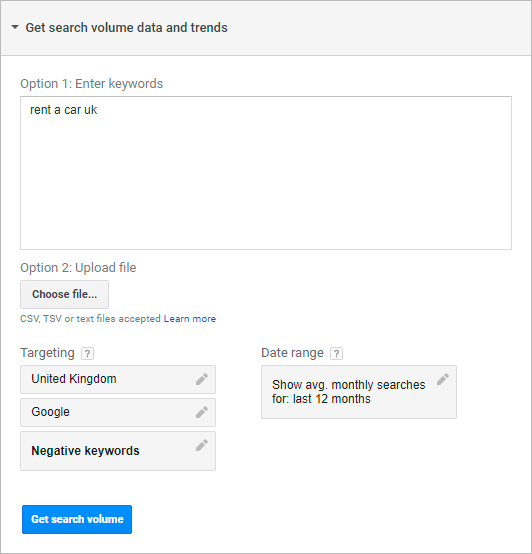 Here, you'd probably expect to see Google search volume for "rent a car uk," nonetheless you see the data for the relevant keyword "car rental uk" with some 18,100 average monthly searches, which is apparently too many for this particular keyword.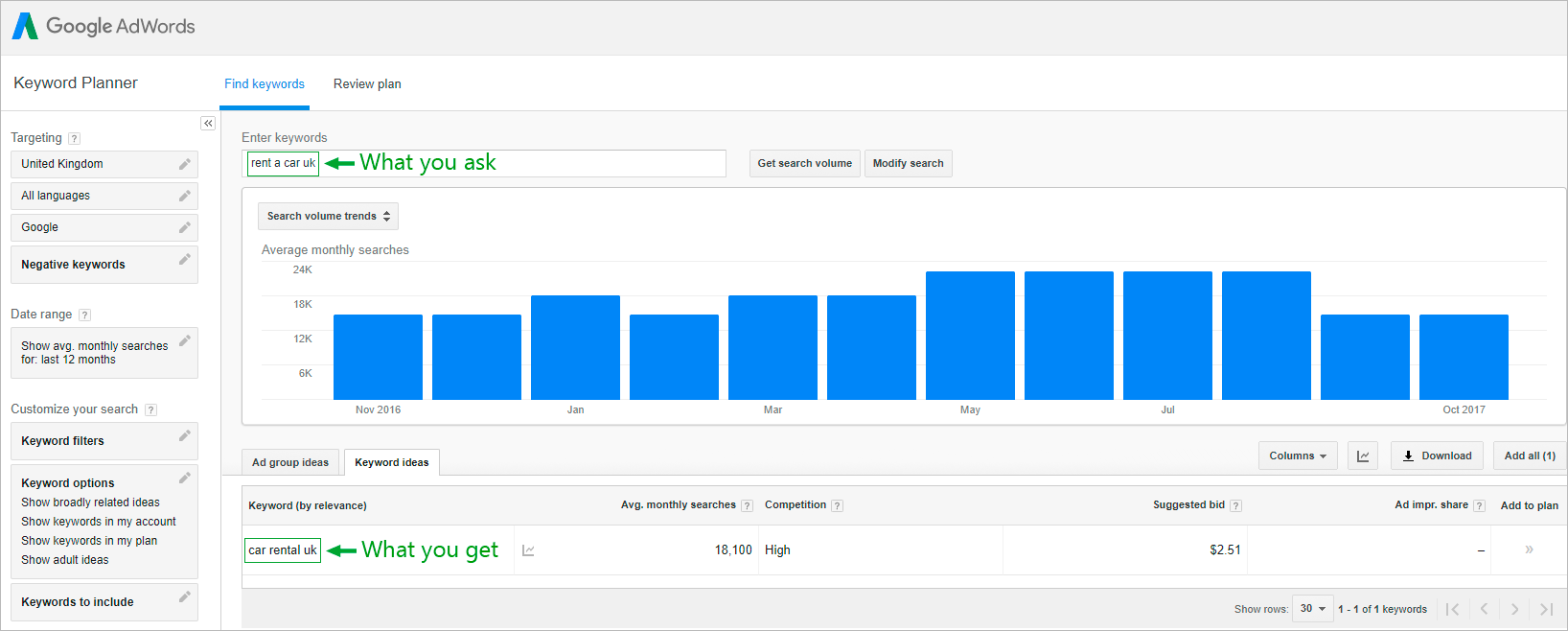 We'll tell you why this happens.
Google has made a change to its Keywords Planner, where instead of displaying the data for each keyword individually, the numbers are now lumped together, which means that Google shows the cumulative data for the group of similar keywords. Simply put, Google combines search variants into a single whole. So, 18,100 is nothing but the number of monthly searches for broad match keywords.
On the other hand, you can still…
Get accurate Google search volume for a particular keyword
Click on the arrows next to the suggested keyword, add them to your plan and click "Review plan."

Specify a bid using the text box at the top of the page. Make sure your bid is high enough.

Add a needed keyword to a new group.

Remove the group containing the suggested keyword and select the exact match.

The value obtained is 338.08, and it clearly makes more sense. It should be pointed out that it's the number of people that are, according to Google, likely to search for our keyword; that is, unlike a deceptive search volume it represents a real number of people typing in this particular keyword. Although you'll need to round up and down these numbers to a certain degree, you can see that the keyword "rent a car uk" is nowhere near to 18,100 searches.
As you see, search volume in AdWords (now Google Ads) is tricky.
Passing off the broad match estimation for a group of similar keywords as the indicator of search volume for individual keywords, Google forces us to put a lot of time and effort into keyword research. Here, at DataForSEO we've developed a tool that can make this substantial part of SEO much more manageable.
Meet the Ads Traffic API By Keywords, a tool that will provide you with the full set of useful stats including impressions, CPC and clicks estimation.
The data we provide is more accurate than Google search volume, which shows the broad match estimation for a group of similar keywords. What's more, with DataForSEO you'll also get CTR and cost for the specified time period which allows making the most accurate forecast for your keywords.
If you'd like to learn more about using impressions data, check out this article.