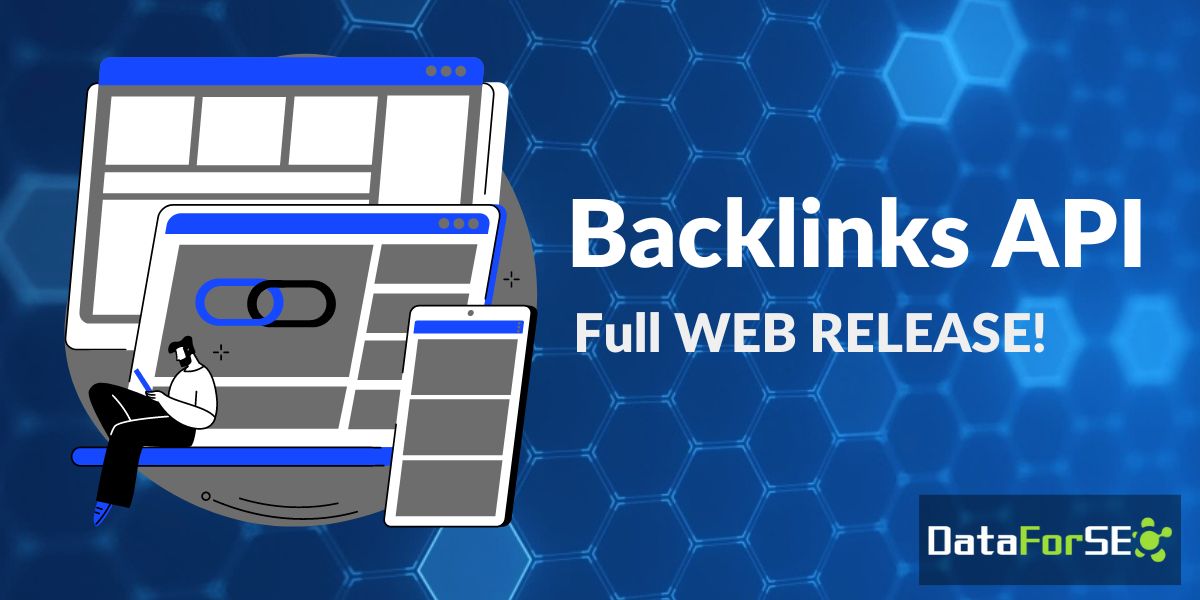 DataForSEO is happy to officially announce the full web release of Backlinks API, a robust source of quality data on inbound links, and referring pages.
Developed by a team of top Ukrainian experts, the latest version of Backlinks API is working atop of a stable-functioning crawling engine. This offers increased opportunities to hundreds of our customers who are already relying on this product to develop some of the leading SEO tools on the market.
Oleksandr Nabatchikov, Head Of Engineering at DataForSEO, explains what made the full web release of Backlinks API possible:
"Backlinks API is now operating on augmented data collection capacities, scaled infrastructure, and a larger rapidly growing index. Currently, it contains over 3,5 trillion backlinks and more than 380 billion pages, and these numbers have increased by around 17% since last month. So, I must say that we've managed to attain lightning-fast index growth dynamics, and it will continue to advance."
The latest release comes with notable enhancements to the Backlinks API, including:

Spam Score metric that ranges from 0% for low to 100% for high spam level.

Backlink Competitors endpoint that will supply you with a list of competitors that share some part of the backlink profile with a target website, along with a number of backlink intersections and the rank of every competing website.

Backlinks Timeseries Summary endpoint that will provide you with an overview of daily, weekly, monthly, or yearly backlink data for the target domain.

New & Lost Backlinks Timeseries Summary endpoint that offers daily, weekly, monthly, or yearly numbers of new and lost backlinks and referring domains for the target.

Redirect URL in Backlinks and Page Intersection endpoints, namely url_to_redirect_target field showing the URL of the page the redirect is pointing to.

Besides the new features mentioned above, Backlinks API allows applying custom filtration to the datasets to be retrieved, and offers endpoints for collecting backlink stats for up to 1000 targets in bulk.
The complete list of Backlinks API features and the product pricing are available on this page.
You can also see more Backlinks API features visualized in our guide to developing a backlink checker.
If you haven't tried our Backlinks API yet, give it a go now!