Considering that the position one in Google SERPs gains the highest CTR of 31.7%, while the whole page two captures only 0.78% of searchers' clicks, there is no wonder that rankings are mind-bendingly important for websites. Logically enough, there is a growing demand among marketers and SEO specialists for the automation solutions that would reduce time-consuming tasks and increase productivity. When it comes to meeting this demand with the supply of data-driven tools, finding a reliable "fuel" becomes one of the most challenging issues of SEO software creation.
If you are in search of a reliable data source (or ideas) for your software, you have come to the right place. This article will give you an overview of 5 marketing automation solutions for which DataForSEO SERP API is an indispensable asset.
Contents
7 Roundup
SERP API: What & Why
Manually collecting substantial volumes of data from SERPs requires enormous resources. Not all companies can afford that. To avoid wasting effort and costs that may result in the tool's functionality slips, they turn to API providers of SEO data.
In short, APIs allow simple integration of search results data straight into applications, "freeing" your development team from the data scraping process. Instead, they can devote more time to devise an appealing interface and empower the tool with handy features valued by users.
If you need a more detailed overview of how APIs operate, we have covered it in this blog post.
DataForSEO will land you with accurate data for a SERP monitoring solution. In particular, our SERP API provides data from:
Users of your software will be able to set any keyword, location, and language, and benchmark their rankings in all major search engines (Google, Bing, Yahoo, Yandex). Besides that, they can define additional parameters, e.g. time frame, category, number of results.
Also, it is possible to specify a device type (desktop or mobile) and OS (iOS or Android for mobile; Windows or macOS for desktop). However, note that Yahoo and Yandex SERP APIs support desktop only.
Our system can deliver results instantly if you choose the Live method of data retrieval or with a slight delay if you go with the Standard method. Besides that, DataForSEO SERP API supports three functions:
Regular (top 100 organic and paid search results
Advanced (complete overview of search results with all featured elements)*
HTML (raw HTML of the SERP)
*supported in all Google search engines and Bing Local Pack
SERP API cost estimation (for 10,000 requests):
Advanced
HTML
Regular
Normal priority
$7.5
High priority
$15
Live method
$30
Note: you can get SERP results using the three functions described above for the price of
one request.
Now that you know the 'What' and 'Why' of SERP API, let's figure out what marketing technology solutions can be equipped with it. We won't go deep into how the tools operate, but will spotlight the data and features DataForSEO allows to supply and create.
Rank Tracker
Mission statement: SERPs positions under surveillance
Websites get more than 50% of traffic from organic results, therefore growing visibility through SEO is the key priority for 61% of marketers. To jump the rankings queue, they turn to the vital SEO instrument – rank tracker. It is a cornerstone of SERP analysis. Rank tracker is essential for keyword research, tracking the success of SEO efforts, and getting an insight into the ways to shell the competition and summit the top of the results 'Mount Everest'.
Main component: SERP Regular
DataForSEO SERP API ensures legit data for position monitoring solutions. With the Regular function, it can provide rankings of the specified domain from the organic and paid search for any keyword, country, and language in:
Google Organic/Maps/News/Images
Bing Organic
Yahoo and Yandex Organic
Use case: Tiny Ranker
This keyword tracking tool has more than 3000 users. Apart from position tracking, it provides suggestions on how to improve website performance, allows creating tasks for SEO team members, and generating reports.
Brief Highlights:
Now let's explore what APIs deliver in a real tool. First of all, there is a visibility-score graph that is calculated based on keyword positions in the top 20 results of SERP. Our API enables users to add an unlimited number of keywords and set up several locations for tracking. Below the graph, there are rank distribution pie-charts powered by DataForSEO that display the percentage of keywords for which a website is ranked at the first, second, etc. page of both desktop and mobile search results.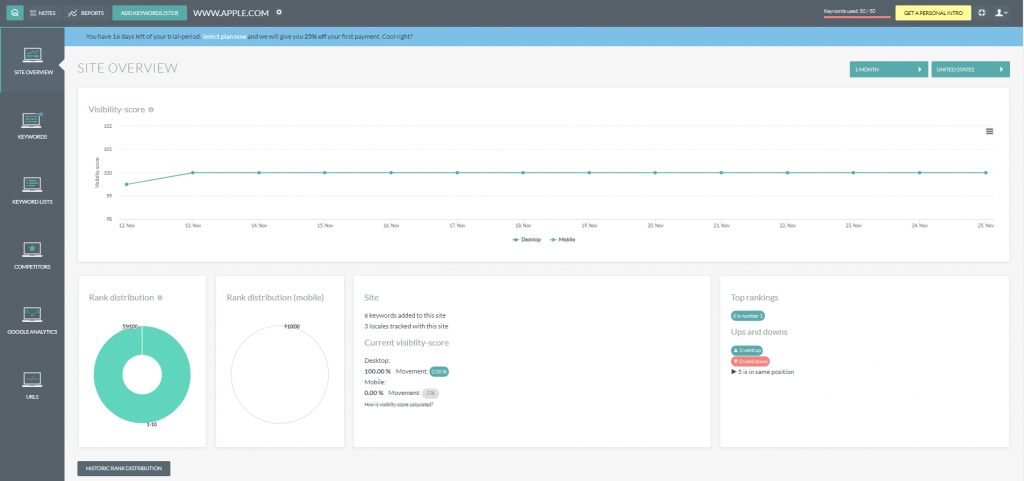 In the keywords section, SERP API provides ranking data for the designated keywords and allows tracking positions fluctuations.

Another essential stat the tool gets from our API is competitor rankings. It calculates competitor score based on the number of user's targeted keywords for which competitor websites rank as one of the top 20 results.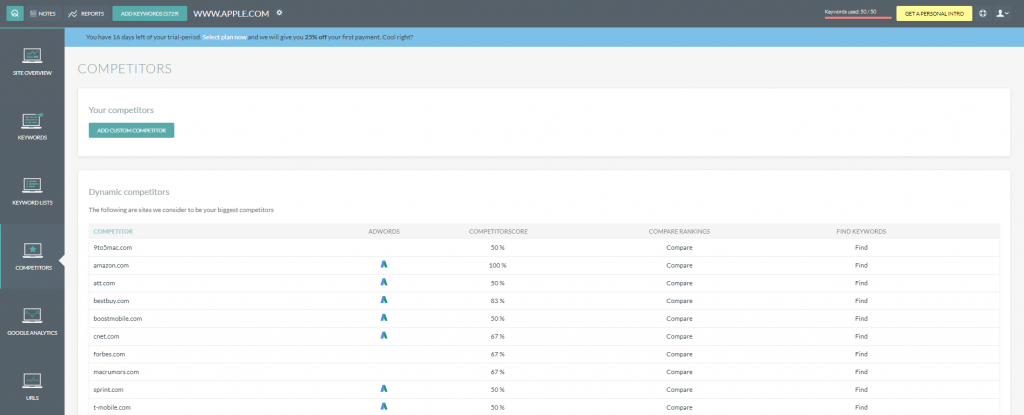 Also, it allows carrying out competitive benchmarking of website rankings.

Upshot:
In a nutshell, SERP API helped the Tiny Ranker team to ensure the accuracy of the results and leverage sustainability. The tool got equipped with an increased base of languages and locations and introduced results for mobile search. At the same time, the service offers affordable pricing: from $19 (100 keywords tracked) up to $119 (2000 keywords) per month.
During a short interview for a success story, Anders Pedersen, the CEO of Tiny Ranker, said:
"With DataForSEO we are able to deliver the world's simplest rank tracker, we can make it really simple and understandable for everyone."
Enhanced Rank Tracker
Mission statement: fighting (or winning) featured elements
Featured snippet steals about 6% of clicks from the #1 results. By contrast, Hubspot reveals that being 'featured' wins websites a doubled CTR. With the organic listing getting pushed down, more businesses target the so-called "position zero" as the priority of their teams' SEO efforts. For some specialists, a more or less common rank tracker is not enough. Meanwhile, they look for an enhanced rank tracker. Apart from rankings for numerous languages and locations, it allows exploring additional elements of the results page and previewing a SERP snapshot.
Main components: SERP Advanced + SERP HTML
SERP Advanced is the central pillar for building such tools. In addition to data on organic and paid results, you can retrieve all featured elements with it, e.g.:
Featured snippets
Answer boxes
Carousels
Knowledge graphs
Local pack and Maps
Shopping
Videos
Images
Moreover, SERP HTML can equip your tool with more visualization capabilities: it fetches the results page's snapshot.
Use case: RankActive's Rank Tracker
RankActive platform provides a broad set of metrics combining several DataForSEO APIs. Rank Tracker, in particular, helps to monitor the website's health, relying on real-time data. It provides a solid overview of multiple factors that influence the website's rankings, including all extra SERP elements and snapshots of results listing.
Brief Highlights:
Rank Tracker encompasses several sections. To begin with, users can choose several necessary search engines and locations in the settings section to get the metrics for each. The Ranking Overview provides a framework of performance indicators. All of them, except for the estimated traffic value and ranked pages, are based on the data from SERP API.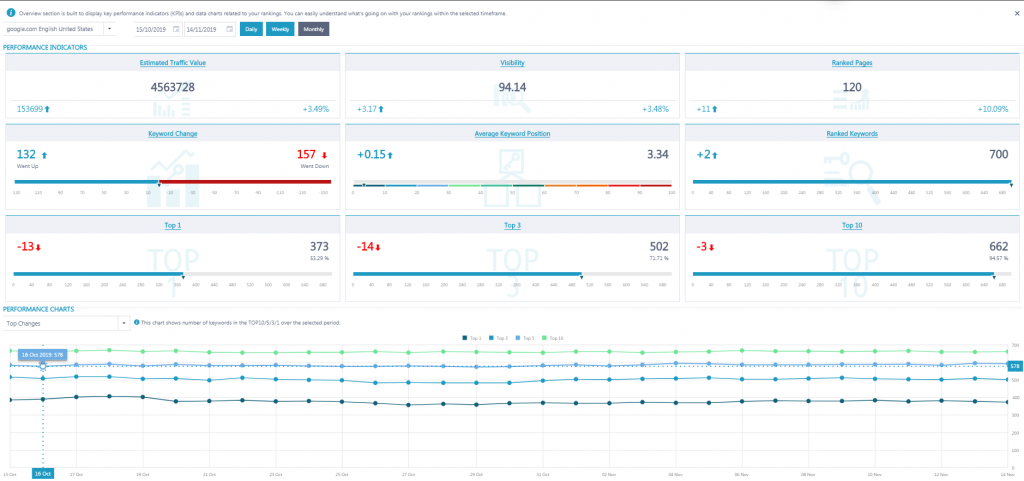 The Detailed View section is where the tool's creators incorporated SERP Advanced and SERP HTML. Users can select various types of columns to be displayed, including 'SERP elements.' It indicates what featured components (snippets, answer boxes, carousels, local pack & maps, etc.) are present on the search results page for the respective keyword.

Along with that, there is a 'positions' column containing magnifier signs for previewing the page's snapshots. By simply following the link to the results, users will not get precise positions, because their location may be different. Meanwhile, the snapshot fetches the exact depiction of SERP for the selected location.
In case there are featured elements on the results page, another type of snapshot indicates how they modify the actual SERP positions:

As you can see, for this particular query, organics got "pushed" to the 4th position by a featured snippet, "people also ask" pack and related videos.

Upshot:
RankActive has more than 1000 active users; the platform's price range is $29.95-$237.95 per month. RankActive's team concentrated their effort on building a convenient infrastructure and versatile functionality, while our APIs deliver the data. Evgeniy Vorobyov, the Chief Technical Officer at RankActive, told us about the main complexities in the development process of an SEO tool and marked the crucial points to keep in focus. Here is how he explains the role of DataForSEO APIs integration into their software:
"We've chosen DataForSEO because their solutions are the most appropriate for the needs of our business. Having the most affordable APIs, they allow requesting the results of a particular task a few times. We can send up to 2000 API calls in a minute, which is very substantial. What's more, their processing speed is far better compared to other API providers, because at DataForSEO they don't use proxy websites in the classic sense. Instead, there are several data sources that help to diversify the reception of data and return location-specific results."
Local SEO Tool
Mission statement: topping local rankings
Considering the speed of "near me" searches growing by 150%, and "local intent" of around 46% of all Google searches with local pack present in 29%, area-specific SEO acquires great importance. To ensure more customers for businesses, SEO experts go local in their research and seek reliable stats to base their decisions on. While common rank trackers place the main emphasis on monitoring the organic and paid listings, precise rankings from maps remain overlooked. Local-focused apps enter the battlefield to provide the perfect armor.
Main component: SERP Advanced/Bing Local Pack
DataForSEO SERP API can equip a tool with valuable data on the "above the scroll" Map Pack (or "the Local Pack") from Google and Bing search engines.
It allows getting super granular with local search results by defining precise coordinates or radius on the map. For example, in the POST request to our API in JSON, it will look like this: ""location_coordinate"":""52.6178549,-155.352142,200"".
Here, 52.6178549 is latitude, and -155.352142 is longitude. These values can have up to seven characters after a dot. The radius should be specified after a comma, following the latitude and longitude. In this example, the radius is 200.
‌
Use case: LocalFalcon
The company does not use DataForSEO services, but we have chosen their tool as an excellent example of functionality you can build with our API. LocalFalcon has a stunning interface that is exceptionally intuitive in use. It displays the rankings in Google local pack for very particular searcher's locations down to a street level. It is a valuable utility for managing Google My Business listing and strengthening local authority and visibility.
Brief Highlights:
The tool finds the user's Google My Business listing, provides ratings for the indicated keyword according to a set of specific geographic positions from where people perform their Google search. For example, here you can see that the tool shows "Enterprise Rent-A-Car" ranking first in the local pack results if the search was performed somewhere very close to the establishment. At the same time, its positions are much lower from the further searchers' spots.

With DataForSEO SERP API, your app will also be able to provide the rankings from Google and Bing SERP local pack. Below you can see how the creators of this tool deliver this data to users:

Upshot:
Here is a bit of info to give you a better understanding of approximate gains. The LocalFalcon pricing page states that for the minimum payment amount of $10, the app users can get 22 scans. Incorporating DataForSEO SERP API, you can pull the ranking results from the local pack and Google Maps into your tool for $0.297 per 22 scans (high-priority data delivery). So, the revenue would be 33,6 times greater than the spend on data.
Yan Gilbert, the creator of LocalFalcon, notes:
"Local Falcon is very different than other local rank tracking software because it's the first rank tracker specifically designed for checking Google Maps results. Every other tracker out there is designed to track organic rankings, and have appended Maps tracking capabilities."
Reputation Monitoring Tool
Mission statement: taking control of reviews
Along with building trust in a brand, reviews are a crucial factor in conquering SERP positions, especially in terms of local SEO:
Marketers are seeking solutions to automate Google My Business management. They need to monitor the state of reviews across platforms and leverage quick generation of replies and review requests. The Reputation Monitoring tool is what handles all these tasks.
Main component: Google Reviews endpoint (SERP API v2)
DataForSEO will supply you with a valuable set of data on each review listed for a particular keyword:
Position
Content
Date when it was written
Rating ratio
Reviewer's profile details
Owner's answer details
Google Reviews cost estimation:
The most profitable investment
($5,000+/mo)
$0.00057 per one credit
2 credits per request for high-priority
(faster data retrieval)
2 credits per every 10 reviews in a request
20,000 credits for 10,000 requests
20,000 credits for 100,000 reviews in sum
$11.4 + $11.4 = $22,8
Note: Google Review is currently supported in v2 only, therefore the estimated pricing is provided according to the v2 credit-based billing model
‌
Use case: Reputation Manager from BrightLocal
Relying on the stats from this tool, the users can easily manage the quality of reviews the business receives by setting up automatic replies to them. Also, it allows sending personalized automated emails to ask for reviews.
Brief Highlights:
This tool provides reports on reviews from Google, Facebook, TripAdvisor, and many other sources. However, as you can see from the chart below, reviews primarily come from Google. And this is true for every business. So, the data supply BrightLocal gets from our API is the most valuable asset of the tool. It helps to gather statistics on the number of Google reviews and the average rating a business receives.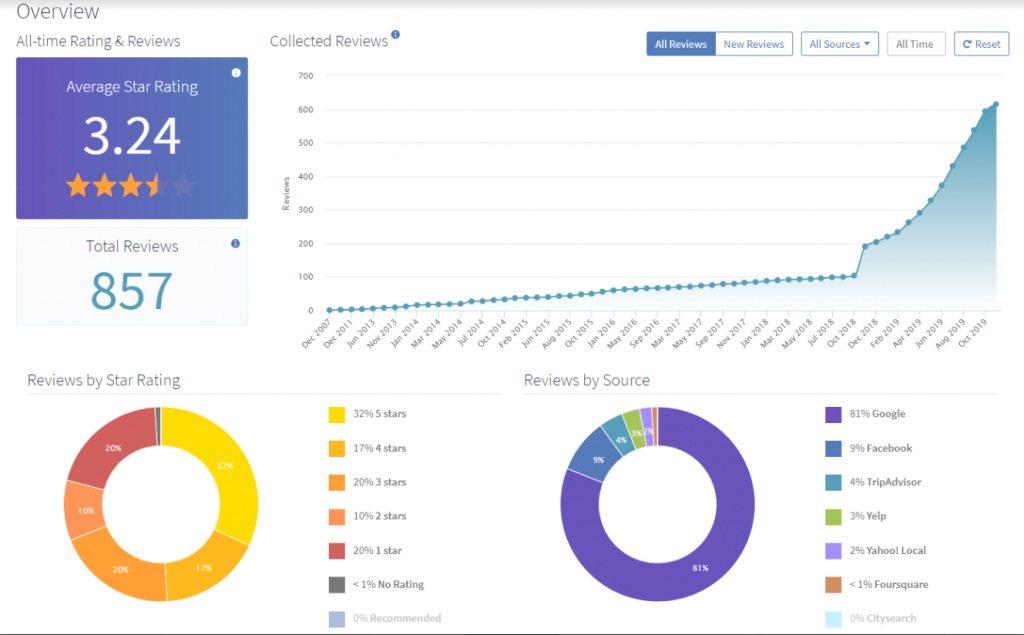 Moreover, the next screenshot shows that DataForSEO API also pulls all the information on each review straight to the app. It allows users to examine the content and reply by simply clicking on the necessary review from the dashboard.

In another detailed section, our API supplies historical data and the total number of reviews from Google.

Upshot:
As you can see, the company leverages Google Reviews endpoint to supply software users with all essential information. The estimated annual revenue BrightLocal gets for all its services is about $6.5M. The offered pricing plans are from $29 to $79 per month, depending on the set of features included.
In the interview for Marketing Digest, Myles Anderson, founder and CEO at BrightLocal, states:
"In terms of where we put our focus and our attention, we probably spend more time looking at things like citations, listings, reviews. They're actually on rankings because we think that is probably where the future is going to be in terms of local reporting and necessity for local data as ranking data becomes harder and harder to track naturally."
Images Rank Tracker
Mission statement: monitoring visibility in image search
Image Pack gets shown in 12.5% of all Google searches. In many product niches, people perform image search before contacting a company. That's why for 51% of B2B marketers and 55% of B2C marketers, visual content plays a significant role in their strategies. Image rank tracking solution is what will contribute to the research on optimizing the brand's visibility in image packs and carousels and on improving rankings of the web-pages that contain images.
Main component: Google Images endpoint
You will be provided with the following information on all images discovered in Google Images search for the indicated keyword:
Pposition
Rank in SERP
Rank in the group of elements
Title & subtitle
Source URL
The URL of the page where the image is hosted
Alt tag
Use case: Google Images Rank Tracker
We have picked a Google Images rankings report generator as an illustration of a tool where Google Images endpoint can be used. Similarly to how keyword rank trackers operate, Google Image search reports are generated according to the keyword a user specifies.
Brief Highlights:
To generate such a report here, users start from selecting the geographic scope – a country or a city. After that, they can set Google Images as the search engine for which the results will be provided and choose the necessary language.

The images' rankings data is displayed in a simple table format indicating positions website's images have for the chosen keywords.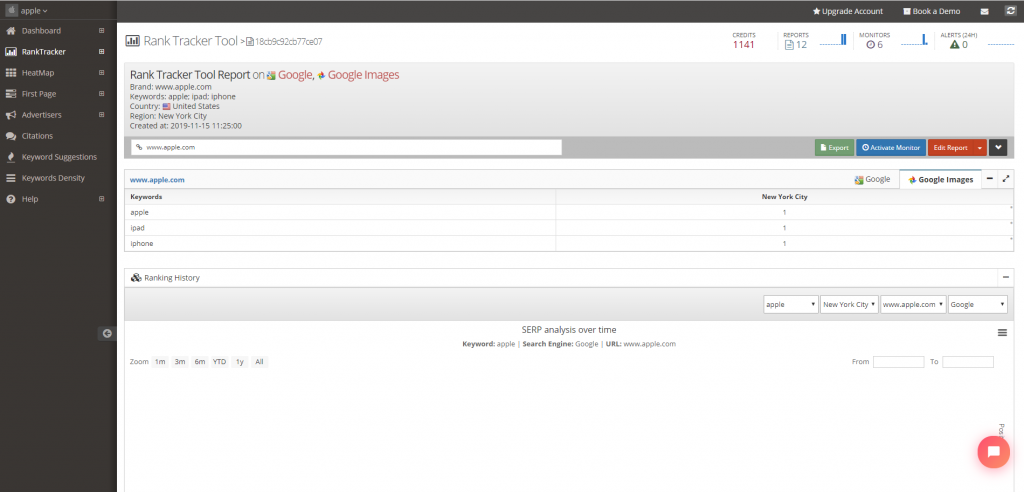 You can easily pull this data with DataForSEO API. On top of that, users of your software will be able to indicate a much more precise location if necessary. Also, our API provides a direct URL to the image and a URL to the image source page. Incorporating this into a tool, you will enable users to jump to the necessary page right from the dashboard and fix the image that performs poorly in rankings.
Upshot:
Google Images endpoint can become an endless source of information on the website's visual search performance. Very few companies provide such solutions. Therefore, you can establish a competitive advantage for your SEO software by incorporating images rank tracking functionality.
Roundup
Scraping and parsing SERPs data is no cakewalk. Meanwhile, an API-driven approach to building marketing automation software will reduce the cost and resources needed for the development. DataForSEO API offers a full spectrum of SERPs data that can be easily integrated into your application.
Quick recap:
Component
Use case
Price*
SERP Regular
Rank Tracker: SERPs positions
under surveillance
$15
SERP Advanced+SERP HTML
Enhanced Rank Tracker: fighting (or winning) featured elements
$15
SERP Advanced/
Google Maps/
Bing Local Pack
Local SEO Tool: topping local rankings
$15
Google Reviews**
Reputation Monitoring Tool: taking
control of reviews
$22,8
(100,000 reviews)
Google Images
Images Rank Tracker: monitoring
visibility in image search
$15
‌
*The prices are provided for 10,000 high-priority requests to SERP API v3, except for Google Reviews.
**As for Google Reviews, v2 pricing is applied: the price is stated for 10,000 high-priority requests to API v2 (based on the most profitable investment, $5000+/mo).
It is up to you to determine the scale of operations your tool will handle. With DataForSEO SERP API, you will get a safe and sound data supply. Moreover, if you have an idea of a marketing automation solution, our team of developers can flesh it out. Learn more about building your perfect software and drop us a line.