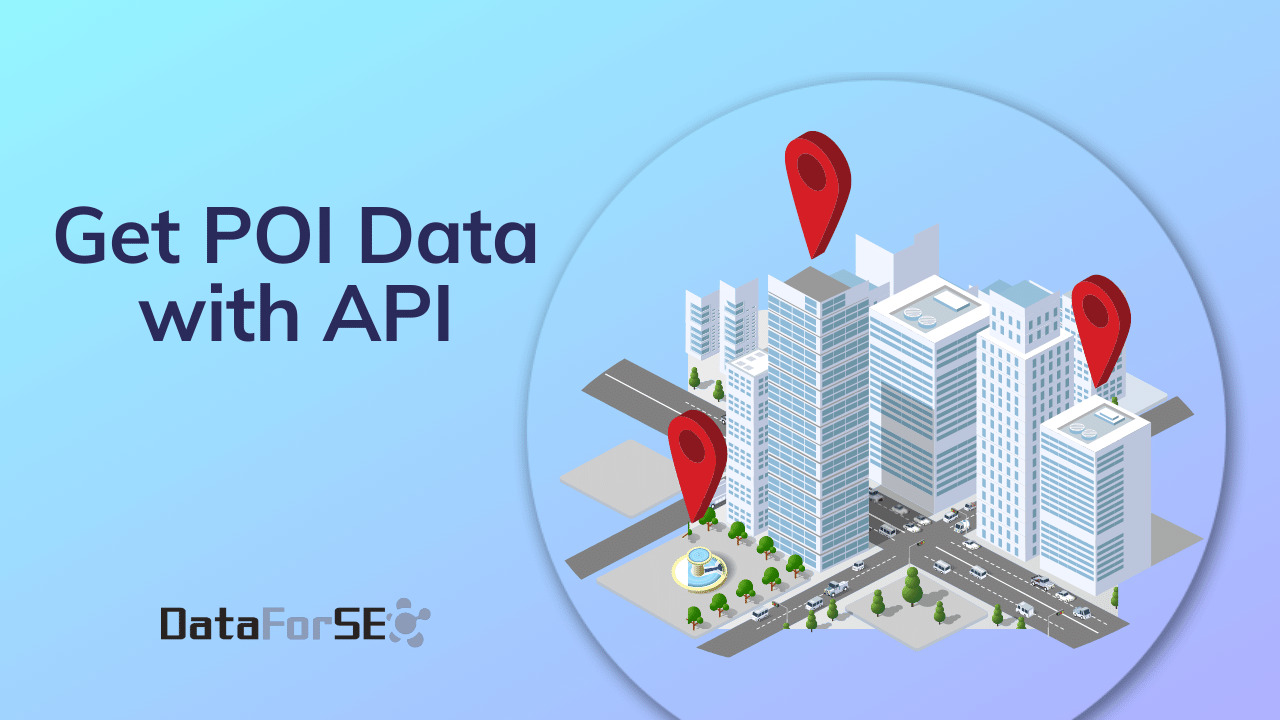 Providing valuable real-world intel, point-of-interest (POI) data has become an important resource for businesses and organizations operating in both digital and brick-and-mortar settings. In this article, we will help you find out what POI data is and how it can be used to meet your unique needs.
Contents:
What's a point of interest and what's POI data?
Where is POI data applied?
How to get Google POI data at a low cost using DataForSEO APIs?
Conclusion
What's a point of interest and what's POI data?
When you're planning a visit to a new city, chances are you open Google Maps or some other map-based app to check out the locations of places you're most interested in. These may include some museums, your accommodation, the nearest bus stops or metro stations, shops and restaurants, or even ATMs.
Essentially, when put on a map, these real-world locations or places are called points of interest (POIs) as certain people may find them interesting or useful. So, all of the places we listed above are points of interest, as well as all the pins and icons on the map of London that you can see below.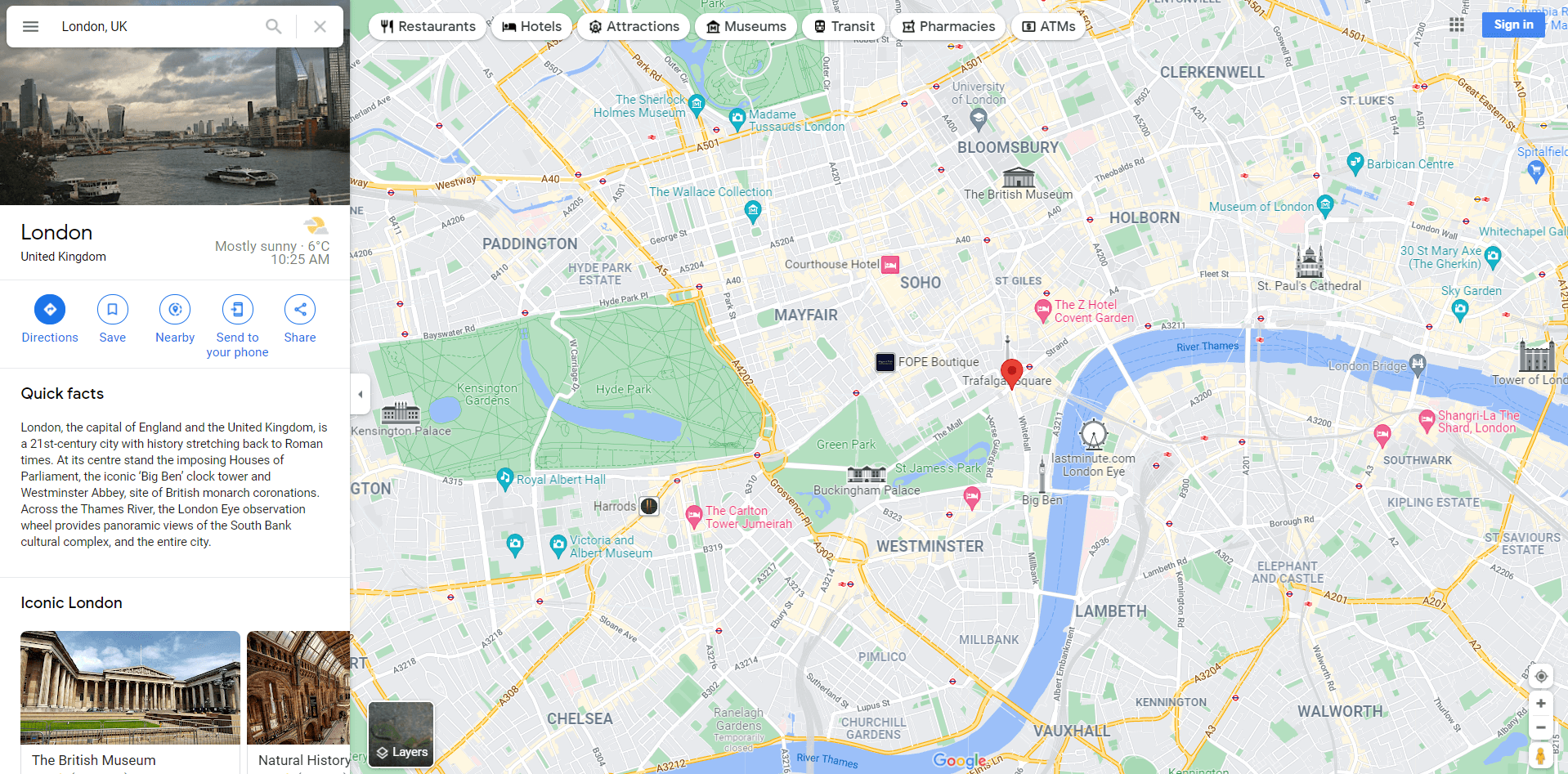 However, actual physical buildings or businesses aren't the only POIs that exist. To give you an example, let's jump from city tours to more adventurous traveling, and take a look at the Pacific Crest Trail (PCT) map. Besides resupply points and campsites, the PCT map also shows spots where hikers can capture beautiful landscapes, find rare plants, and observe wildlife. All of these are also points of interest.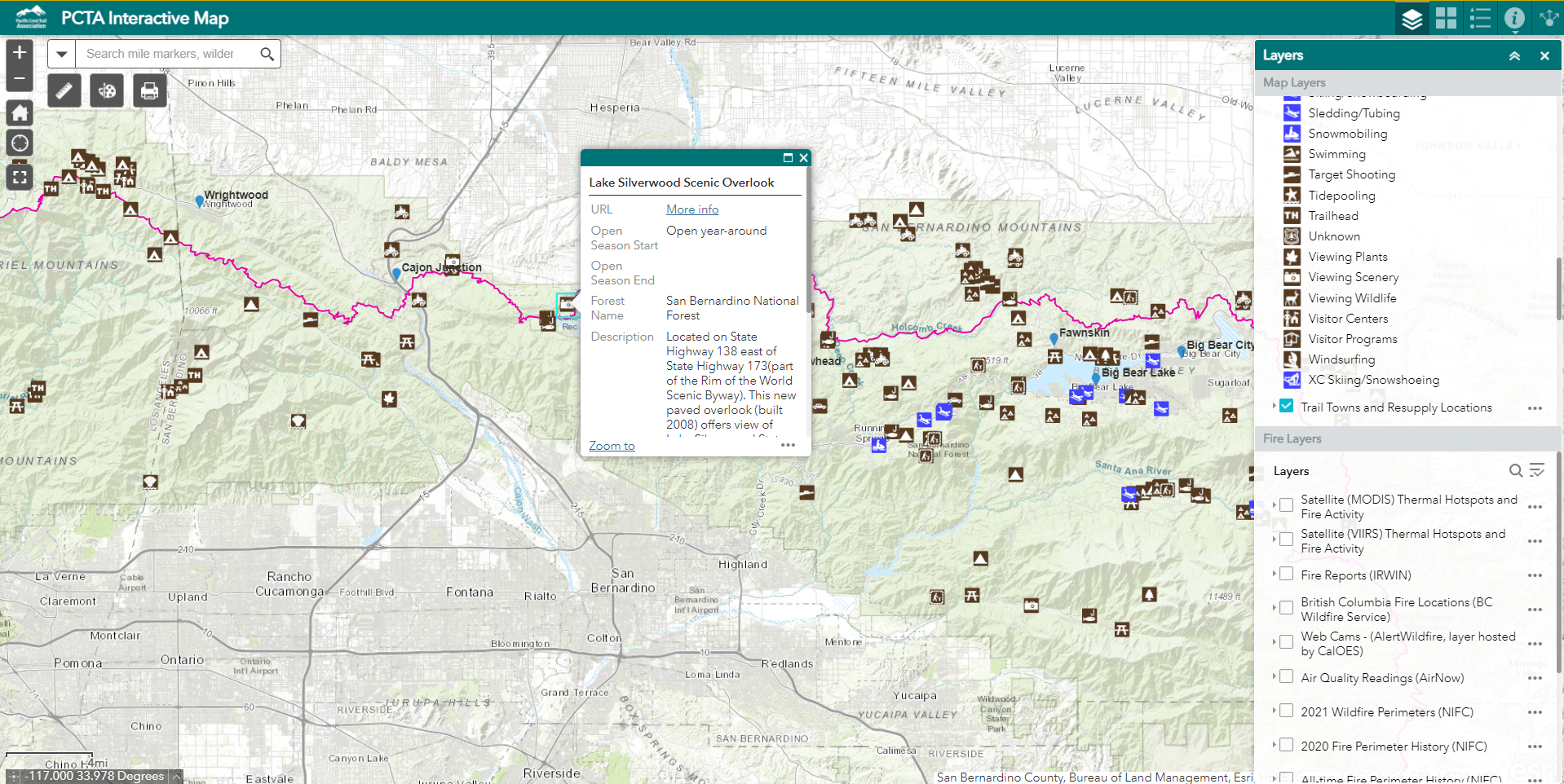 As you can see, POIs guide us through the surroundings and make points on a map meaningful. In other words, from the user perspective, POIs are essential elements we interact with when searching for places or navigating between them. This is exactly what makes POI data a crucial component of location-based apps.
Basically, POI data refers to sets of coordinates denoting certain places along with additional information about them (attributes), such as a place's name and description, website link, phone number, open hours, reviews, and photos, etc. This data, supplied in the form of a POI database or through POI data API (application programming interface), enables developers to create apps that immediately provide real-time or most up-to-date location information.
Earlier we've mentioned several examples of such apps illustrating the use of POI datasets for tourism-related maps. However, the use cases of POI data can be found in a wide range of industries and location management solutions.
See how DataForSEO APIs can help power up your enterprise >>
Where is POI data applied?
In this part, we will quickly walk you through an overview of industries putting POI data to use and will showcase several applications built on top of this data.
Travel & tourism. Review platform
One of the most common use cases for POI data is building an application that helps users find the best hotels, restaurants, and tourist attractions by revealing place ratings, reviews, photos, and prices.
For example, POI data enabled Tripexpert to create a platform of aggregated expert opinion on various places. Basically, Tripexpert collects and curates reviews from 100+ renowned publications, including Michelin Guide, Fodor's, and Concierge, to rank and score hotels, restaurants, and tourist attractions.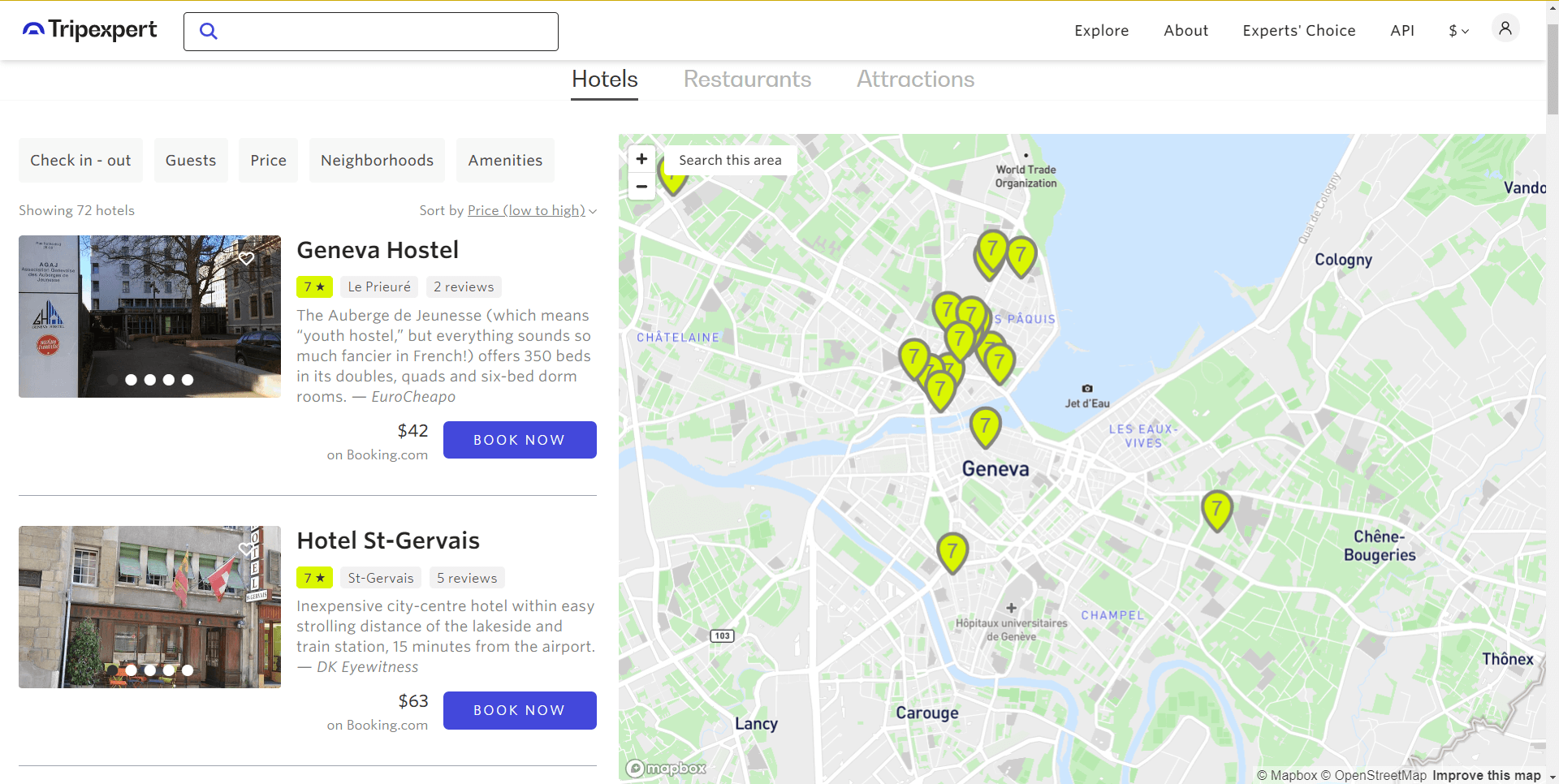 The key functionality of the platform is built around essential POI data about the ranked venues, such as name, category, price, amenities, cuisine, neighborhood, and location.
At the same time, richer POI data could add more value to the platform. For example, service options, atmosphere details, working hours, and popular times would help users plan their trip by using Tripexpert alone.
The POI data attributes we mentioned above are often incorporated into map search on travel agency websites, making it easier for users to review and plan their new adventure in every detail. Yet, the application of POI datasets in the travel and tourism industry is not limited to customer-focused functionality, but also extends to internal analytics, research, and marketing.
Using DataForSEO Maps SERP API and Business Data API, you can obtain extensive POI data on various establishments and hotels to create your own platform and make data-driven decisions. Learn more >>
Real estate. Property map search
When it comes to finding property for sale or rent, it's all about the location – whether you're interested in the proximity to schools, shortening your commute, or having groceries nearby.
The simplest way to evaluate property using the all-location criteria is by reviewing it on a map.
Many accommodation search platforms are built around this concept. Yet, while some provide a rather bare map making it nearly meaningless, others include POIs to offer a real-world understanding of the surroundings.
To illustrate this, let's consider Realtor.com, a real estate listings website. As you can see, Realtor.com visualizes properties on a map and offers additional map layers that feature POIs nearby. Thanks to this functionality, users can evaluate an apartment's proximity to transit options, schools, shops, restaurants, and more.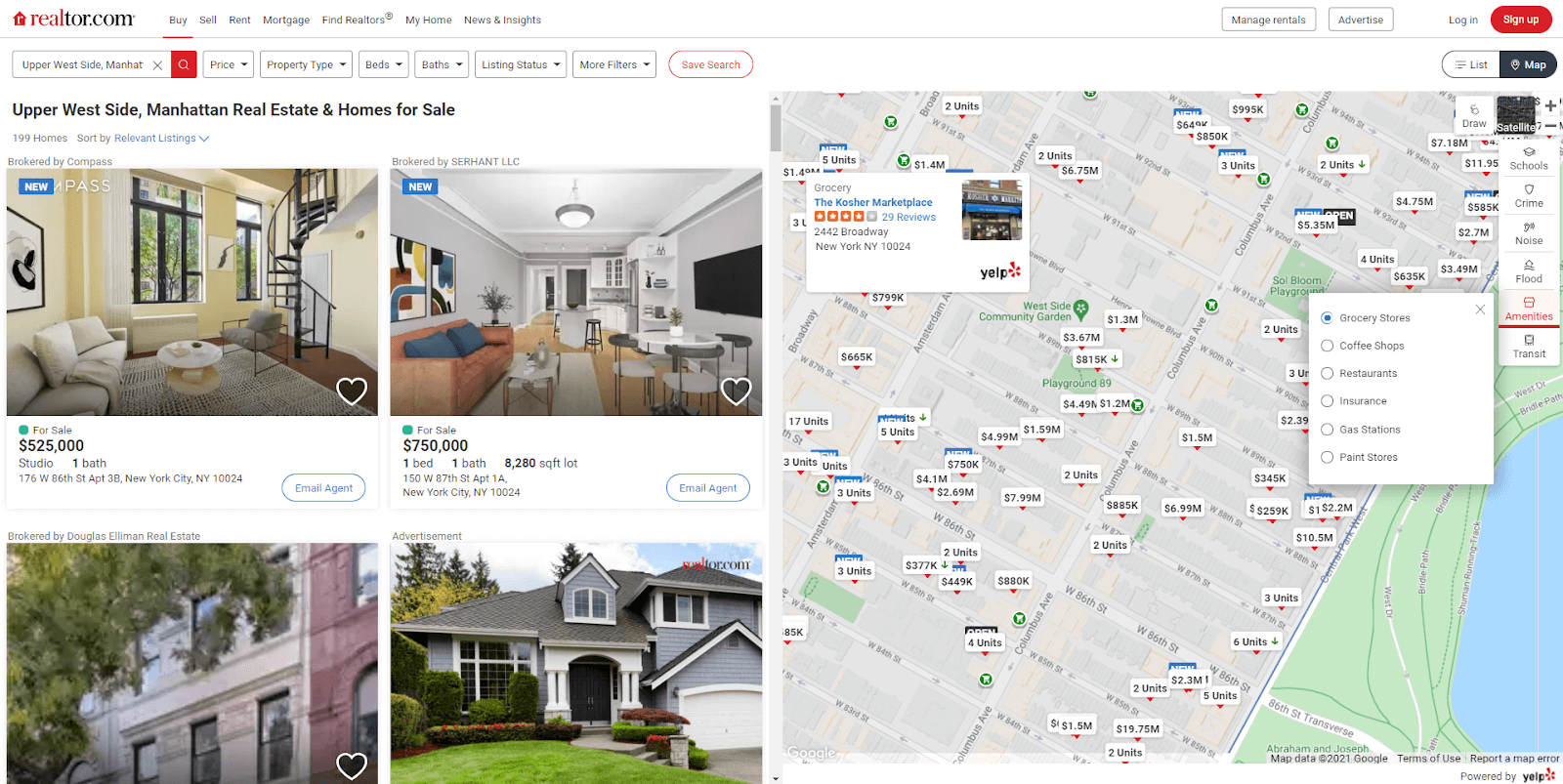 Some platforms add this POI data to filtering options, giving users an opportunity to quickly refine the list of properties based on the presence of schools, parks, or cycling routes within a close range.
Overall, the use cases of POI datasets in the real estate industry go from enhancing the property search experience and personalizing marketing to valuation modeling and market research. By simply incorporating POI data, businesses can strengthen their differentiation points and drive faster decision-making.
Relying on DataForSEO's Maps SERP API, you can easily integrate and tailor POI data to your use case and boost the performance of your real estate business. Learn more >>
Retail. Site selection app
While locating the best-fitting option matters a lot from the customer's standpoint, it's no less important for business owners. For example, if you consider opening a fast-food franchise in the US, such as a McDonald's, Taco Bell, or Burger King, you should be ready to invest from $1.2 million to over $2 million. Given such high upfront costs alongside ongoing expenses, you'd certainly want to be sure you select a profitable spot in the city.
Successful site selection heavily depends on analyzing the right data. To get the necessary insights, savvy business owners leverage location intelligence tools that provide behavioral, demographic, and POI data among other statistics.
One example of such a tool is CARTO's Site Selection App connected to over 9,000 datasets. With the help of POI data, the app users can map out their current assets and competitor locations, as well as understand how the proximity to certain POIs may influence the performance of their business in a target spot.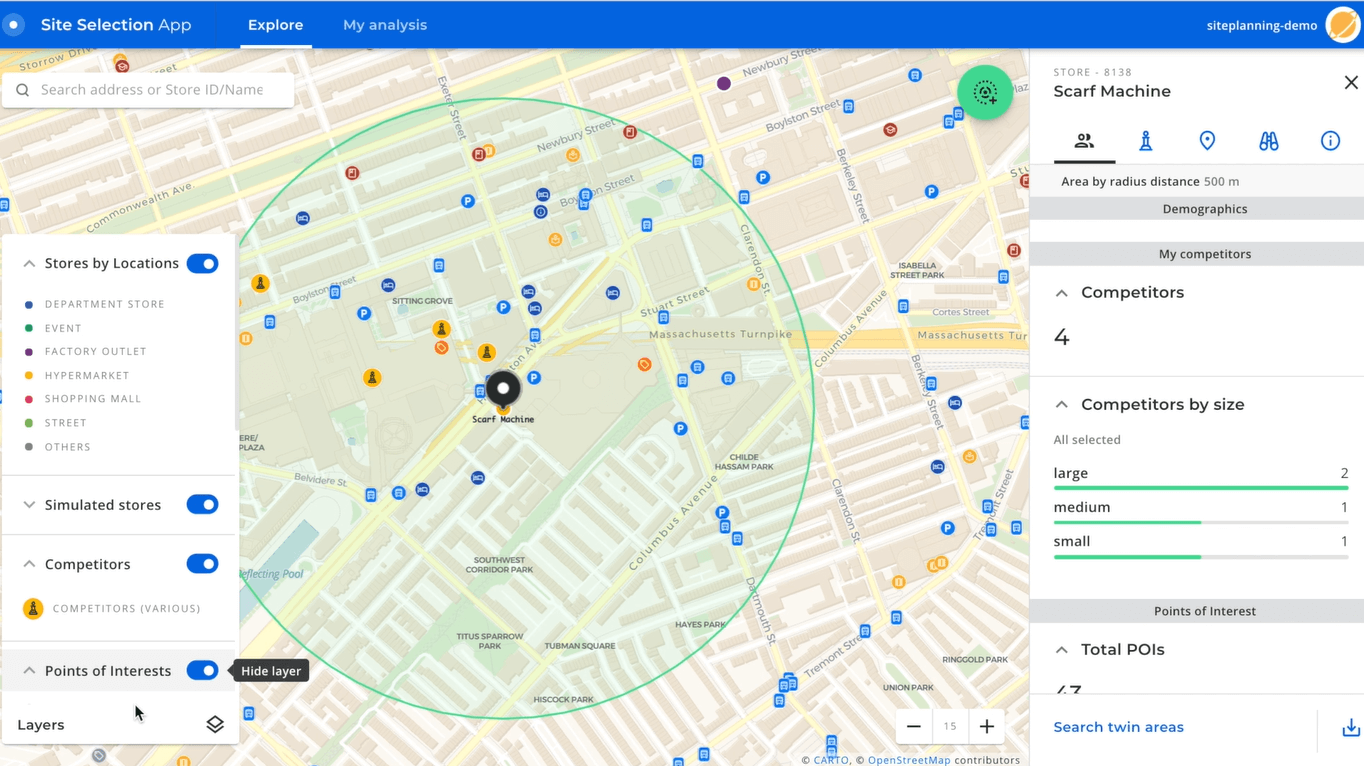 Based on POI data, a user can, for example, quickly plot the locations of other fast-food restaurants on the map, and identify areas with no direct competition for their McDonald's location. Using data on visits to nearby POIs, the user can also determine the best hours to open and close up.
By and large, software with the functionality described above is referred to as a geomarketing tool. Geomarketing, in its turn, is based on leveraging location data to create and implement informed marketing strategies. With POI data as one of the linchpins, geomarketing analytics is used by a great variety of industries, including retail, finance, insurance, banking, and numerous companies whose business development is shaped by spatial information.
At DataForSEO, you can find API solutions that meet your unique industry needs and start improving your business processes with accurate and up-to-date POI data. Learn more >>
Who else can benefit from POI data?
Real estate developers use POI datasets to analyze neighborhood attractiveness before investing in a new construction project and when promoting a property to drive more sales.
Marketers and advertisers leverage POI insights for geotargeting to reach relevant audiences with location-relevant messages.
In retail banking, POI data is used for competitor research and mapping of branches and ATMs to evaluate coverage across a city or region.
Logistics, transportation, and delivery companies rely on POI data to optimize routes and broaden drop-off and pick-up points. Ride-hailing applications also incorporate POIs to reduce navigational errors and improve app efficiency.
In the public sector, POI data supplies insights about regional facilities and public infrastructure allowing local authorities and governments to assess the community's needs for optimization of services in the area and urban development planning.
To sum up, POI data opens up ample opportunities to enrich decision-making and spatial analytics of any industry vertical. In the following part, we will explain how to tap into the world of location data using API.
How to get Google POI data at a low cost using DataForSEO APIs?
Collecting and keeping accurate data on various points of interest is an incredibly complex process. Rather than overload in-house resources, companies utilizing location data usually turn to POI data providers. When selecting a data vendor, you should assess if the coverage, supplied details, delivery method, and cost align with your use case, system capabilities, and budget.
First things first, here at DataForSEO, we offer affordable alternatives to Google Places data.
For example, with Google Places API, basic data on 20K businesses of a certain type and from specific areas will require making 1K requests and cost $25. To get more comprehensive place details, you will have to make a separate Place Details request for each separate business. 20K requests will cost you $500.
In contrast, using DataForSEO's Google My Business API, you can obtain the same data paying 88% less than with Google's API, or $60 to be more precise. If you don't need to access the latest data from Google Business Profiles, you can even bring your costs down to $6.2 for the same volume of data with Business Listings API that supplies information from our in-house database.
Besides such web resources as Google Maps and Google Hotels, our system also collects POIs from the Yelp platform.
These directories offer extensive coverage. In particular, you can access Google's data on over 200 million places from over 250 countries and regions, and Yelp's data on businesses from over 219 cities and 32 countries.
As for the method of data delivery, we supply POI details through API (application programming interface) which allows accessing data once it is needed. This is the best method for saving costs associated with data storage. While bulk POI databases require huge and expensive resources for keeping the data, API extraction is much more cost-efficient as it needs no maintenance or data warehouse. However, we also offer proprietary databases for large projects.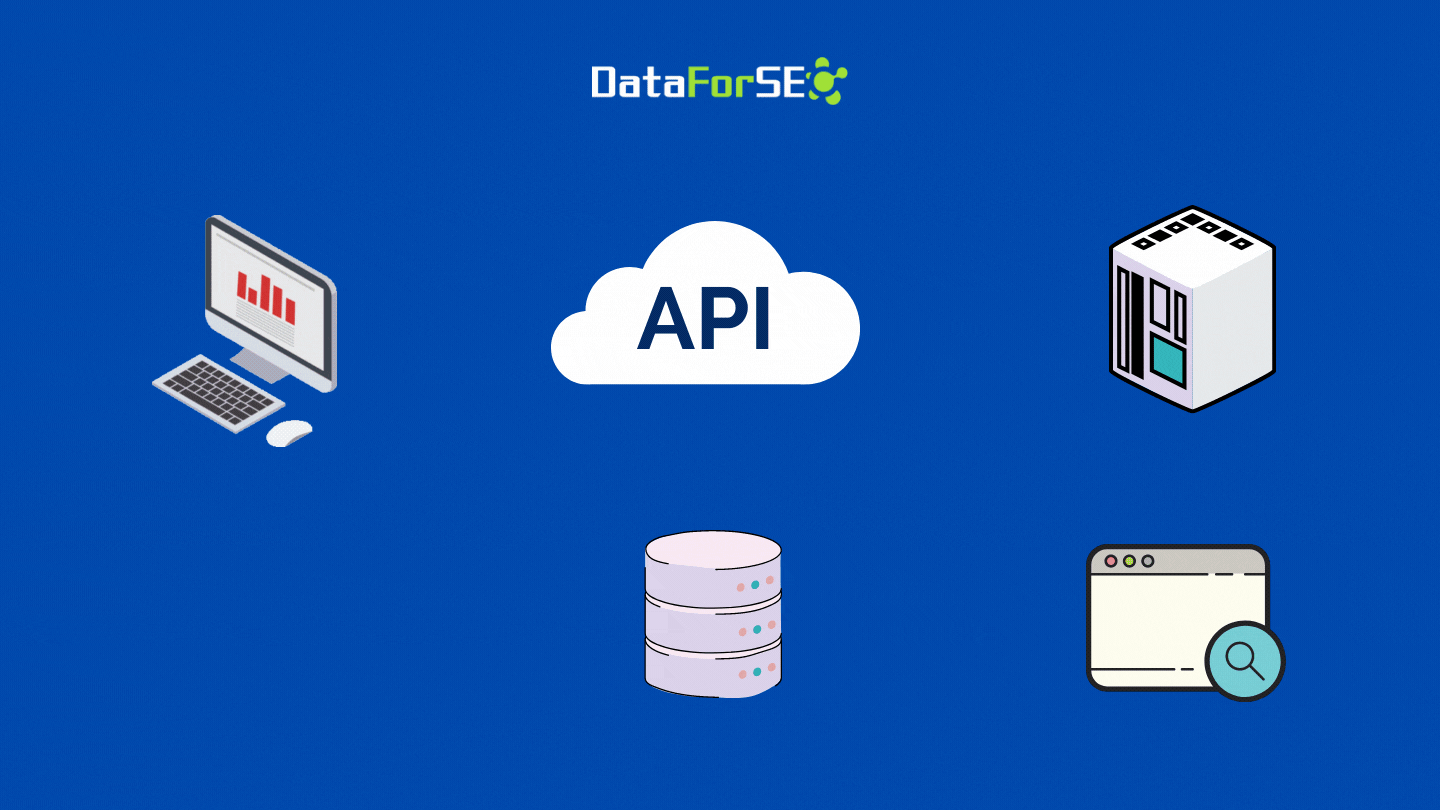 In addition to that, DataForsEO APIs are offered on a pay-as-you-go basis, meaning that you only pay for the data or services you use.
Below, you can review a list of DataForSEO solutions that can be used for getting POI data depending on your specific needs. You can also evaluate data completeness by following the included links to samples.
Encompasses millions of point-of-interest (POI) records. Each record contains public details of a business entity, including its service description, address, contact phone, domain, rating, work hours and popular hours, and other details. It takes up to 90 days to update all data in the database.
This API suite encompasses several solutions that will provide you with POI data from the selected platform.
Provides information about business entities listed on Google Maps in the specified categories based on our in-house Business Listings Database that's updated every 90 days.
Supplies rich POI details for any place listed on the Google Maps platform based on the place's name, CID, or place ID. Unlike Business Listings API, this API provides data that's collected the moment you make an API request, so you always get the most up-to-date information using this solution.
Supplies up to 100 POIs (hotels and other accommodation options) from Google Hotels platform listed for the specified keyword and location or GPS coordinates.
Supplies POI details for hotels and other accommodation options listed on the Google Hotels platform based on the place's name or hotel identifier.
Provides POIs from the Yelp platform listed for the specified keyword and location.
Provides up to 100 POIs from Google Maps search listed for the specified keyword and location or GPS coordinates. This API also collects data from the source in real-time once the API request is sent. In contrast with Business Listings API and Google My Business Info API, this solution offers less business details.
In addition to the POI data options above, you can also get reviews from Google, Yelp and other popular platforms. Learn more about collecting feedback data with DataForSEO.
Overall, using DataForSEO, you can build and power any custom solution, design a tailor-made POI database or enlarge your list of applied data sources.
See our pricing page to estimate the cost of POI data you need >>
Conclusion
Point of interest (POI) data is an essential component that brings real-world context to the base map layer by denoting places on it. For numerous businesses and organizations, this data also brings valuable insights into the surrounding environment and helps to build advanced location-based apps faster.
However, not every company can afford to acquire bulky POI databases and required storage capacity. That is why many tend to use API technology to get POI data.
By allowing different types of software to easily communicate with each other, APIs can deliver the necessary POI insights straight from a vendor's system to your application.
DataForSEO offers several APIs that will help you obtain structured POI data under budget from Google Maps, Google Hotels, and Yelp:
Business Data API
Business Listings Database
Google Maps SERP API
Do not hesitate to contact us if you'd like to discuss any details, or jump to our API playground and test APIs for free.
TRY NOW